Cornhole Boards
Per ACO regulation, cornhole boards are 2' x 4′ with a 6" hole centered 9" from the top of the boards and 12" from each side.  When setup for play, the back of the boards measure 1′ from the ground (the front of the board rests on the ground and is just about 4" high).
There is a wide variety of boards styles out there to choose from.  If your are the DIY type, head over to YouTube or Instructables for some of the directions we've found to be very helpful in making your own boards.
If on the other hand you want to play sooner than later, and with fewer splinters, then we recommended you checkout out some of the ready to go boards shown below.  Also, some of these boards have the added bonus of coming with cornhole bags or carry case!  If they don't include bags, you better go get some cornhole bags so you don't look foolish throwing rolled up socks at your boards!
Unfinished / Painted / Stained
Cornhole boards come either unfinished (wood with no finish) and finished (usually painted or stained).  Unless you are planning on doing a custom paint job or applying your own board wraps, I recommend getting finished boards.
The finished boards come in a variety of colors and patterns to chose from.  Below are some that are available through Amazon.  If you are an Amazon Prime member, this is going to be the most affordable route.  Click on one of the boards below, and browse through the selection.
If you are not an Amazon Prime member, don't want to make your own boards…but really want a high quality set of hand made boards…look no further than Woodgamz.com.
===> Check Pricing on Unfinished Quality Wood Cornhole Boards  <===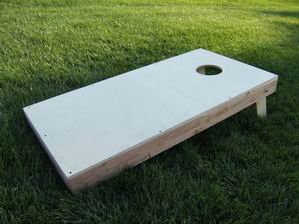 If you are looking for a painted board, ready to use or decorate, I recommend the Woodgamz painted boards.
===> Check Pricing on Painted Quality Wood Cornhole Boards <===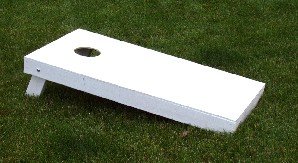 These painted cornhole boards have been primed. After they dry they have been sanded, and then two coats of high gloss external grade paint are applied.
Each Woodgamz.com set includes 2 Cornhole Boards unpainted with folding legs. The Cornhole Board set is tournament size (4'x2′) and ready to customize it yourself.  This product is made in the USA!
Wrapped Boards
Wrapped cornhole boards are wood cornhole boards with a vinyl decal applied to the play surface of the board.  There are many options available on Amazon (again, if you have an Amazon Prime membership, this is probably going to be the cheapest and fastest route).
These wrapped boards allow you to show off your personality, your favorite team…or even favorite beer.  The vinyl wraps last for a long time and are water and UV resistant.
Here are some examples from Amazon.  Click on any of the boards below to see the full offering through Amazon.
If you already have have boards, why not give them new life by adding some cornhole board decal wraps!  The decals are easy to apply, provide a consistent play surface and will last for many years.
---
*As an Amazon Associate I earn from qualifying purchases.