I think we can all agree that playing the game of cornhole is pretty awesome. You can pull out the bags and boards, a case of ice-cold beer and have a really great time.
But as soon as you start to get more than a couple of pairs together, murmurs of "tournament" can be heard on the wind.
At lease this is the case at our house. The next thing you know, my brother-in-law is running into the house for paper and a pen to create a bracket. The next thing you know, we are having a tournament!
Across the country cornhole tournaments are being played. Many of them are playing in backyards with little to no fanfare. Others, are played in stadiums in front of rowdy crowds (made up of friends and family)!
A very common tournament is the fundraiser. Cornhole is one of those games that unites communities, especially when someone from that community is in need.
So, whether you are looking to host a backyard tournament, fundraiser, work event or national championship, this post will help you pull it all together.
If you want an example of how exciting a professional cornhole tournament can be…check out this round from the COBS 2017 tournament.  (I find this a lot more exciting to watch than most of the crap you find on TV!)
We'll look at the most common forms of tournaments in the post: Single Elimination, Double Elimination, Round Robin, and Playoffs.
Picking Teams
It is important to note that in most tournaments, teams of two players compete. If you are not familiar with how to play the game of cornhole, check this out.
For backyard tournaments, the teams are often spouses or siblings. We like to mix things up and draw names from a hat. This ensures that there isn't one dominant duo that always ends up winning.
Single Elimination
In the single elimination format, teams are matched-up in a bracket format. (It is important to note that in most tournaments, teams of two compete.)
If any team loses a game, they are eliminated. No second chances (thus the Single in Single Elimination) The winning teams continues on until only one team remains (undefeated). They are the champs!
The nice thing about this style of tournament is that it is fast. But be warned, if you have a lot of teams, being knocked out in the first round means a long wait until the next tournament begins. I recommend this form if you have 4-6 teams and you're playing at a family and friends venue.
If you are trying to hold a fundraiser or professional tournament, this form will most likely not attract
a lot of teams. The reason… teams don't want to risk the chance of driving to a tournament, losing one game and being knocked out.
One solution to this problem is to have a "best 2 out of 3", where teams are guaranteed to play at least two games.
Here is an example bracket (click the bracket to create your own)
Double Elimination
In double elimination, teams are matched-up in a bracket format once again, only this time any team that loses two games is eliminated (each team is guaranteed to play at least two games). The winning teams continue to play until a winner is crowned (no longer does the champ have to be undefeated).
This form of tournament is very flexible. Let's take a look as some of the variations you can create:
Variation 1 – Here was a winner's bracket and a losers bracket. The winner will remain in the winner's bracket as long as they keep winning games. The first time a team loses a game, the team is moved to the loser's bracket. One more loss within the loser's bracket and the team is eliminated. This means that even if a team loses in the first round, they have a chance to come back though the loser's bracket and win it all!
Variation 2 – This is a fun variation and results in more games for the team. Instead of just playing one game, the teams play "best 2 out of 3" rounds. The team that is first to win two games moves to the next round. The loser moves to the loser's bracket. As with variation 1, if the losing team loses one more round they are out of the tournament. You can choose to use "best 2 out of 3" for just the first round, or for all rounds in the tournament.
Here is an example bracket (click the bracket to create your own)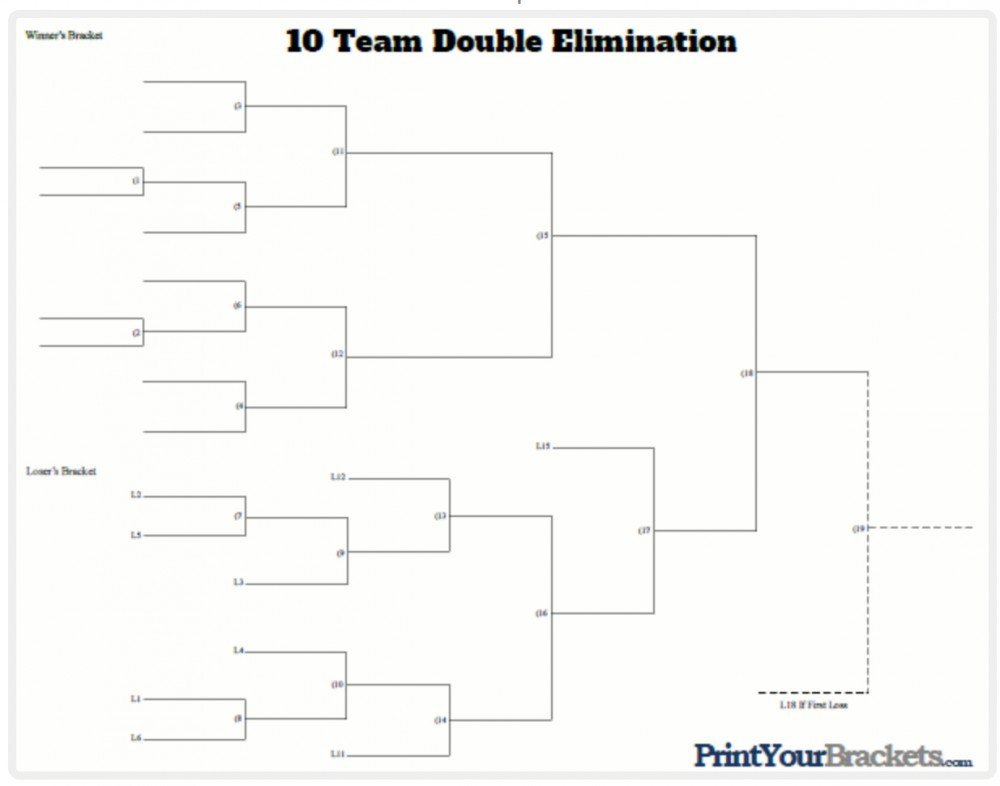 Round Robin
This format is easy to run, but can take a long time if there are a lot of teams. The reason for this is that all of the teams will play each other. And then the team with the most wins after all games are played is the champion.
If you have enough boards and bags, this is a super fun way to play! It's fast and you get to meet everyone in the tournament. Did I mention that a LOT of games are played?
If you have 10 teams, and they play each other once, each team will play a total of 9 games. If they play each other twice, each team will play 18 games. Like I said, that is a lot of cornhole!
Since this format is so easy, you don't really need a bracket. You just need to keep track of wins for each team.
The team with the most wins is the champion. If by chance multiple teams have the same number of wins, you can use the single elimination formation to determine the true champion (see Playoffs below).
Did You Know?  In theory, a round-robin tournament is the fairest way to determine the champion from among a known and fixed number of participants.
Playoffs
Playoffs are the single elimination tournament at the end of a round robin. Teams play a round robin at first to obtain a "seeding" based on winning percentage. When the round robin format is over, an even number of teams are chosen to enter the playoffs round.
Usually the number of teams in the playoffs would be the top x teams (x is any even number).
I always think of the NCAA basketball tournament. All seasons teams play in a round robin. Then based on their winning percentage they are seeded and then compete in the playoffs.
As mentioned earlier, the playoffs are a single elimination round and the games are played until there is only one! The Playoff Champs!
Championship Game
If you want to know the which team is the true champion…the team that really has the right stuff, then you'll want to use the Championship formation. This one is not for the faint of heart or short of time. This format can be long and drawn out.
You won't regret it though as this is the format that most folks are looking to partake in! If you are having a fundraiser, this is the best bet for drawing in more teams.
With that said, the Championship tournament is built about the formats we've already looked at. Here is an example of what this format would look like:
Let's start off by saying we have 20 teams that have entered the tournament.
Start off with a round robin where each team plays the other teams one time. At the end of this round, you will be able to calculate the teams "seed". The team that has the most wins is the #1 seed. The team with the second most wins is the #2 seed…etc, etc, etc.
Only the top 10 teams advance to the playoff round which is a single elimination tournament. The teams are paired up in a way that pits the best team, against the worst team. So, in our case #1 seed would play #10 seed. #2 seed would play #9 seed. And so on…
Conclusion
In a future post I will go into more detail on running a professional tournament. Complete with forms, etiquette and advice for promoting your event. (Speaking of events, if you have one of your own be sure to get it on our Event Calendar)

But for now I hope this was enough to get you going on your backyard competition. And remember, we lovers of cornhole do not shun other backyard games. What you learned here can be applied to horse shoes, washers, lawn darts, beer pong, sack races….the list goes on and on.

Now get out there and play some cornhole!
This post contains affiliate links, which means boarddecals.com will earn a commission if you decide to purchase anything through my link. The commission we earn, at no extra cost to you, helps us run this website . For more information, visit my disclosure page.