Baggo and Bean Bag Toss…
At the end of the day, it's all Cornhole to me!
While the rules are the same, there are some differences between the games.
Baggo and Cornhole stem from the same humble beginnings. The differences between the two games seems to be a result of the creators being 90lb weaklings, not capable of carrying wooden cornhole boards. (They also thought wood was old and ugly – wood is ugly?).
So, the Baggo creators cut a foot off the length of the board, made them out of plastic, added some handles and called it Baggo (Baggo is a registered trademark of Baggo)
In this post we'll explore in a little more detail the differences between Baggo and Cornhole. We'll look at the pros and cons of each, and then offer some recommendations on which sets you might want to purchase.
Baggo vs. Cornhole
As mentioned earlier, the rules for Baggo and Cornhole are identical. When it comes down to it, there are only a few physical differences in the boards and bags.
Cornhole boards are 2′ x 4′ while the Baggo boards are 2′ x 3′
Cornhole bags are filled with 12oz of corn or plastic pellets while Baggo bags have 9.5oz of corn (some newer versions I believe now have plastic pellets as well).  While Baggo is often called "Bean Bag Toss", the bags are NOT filled with beans!
Let's take a look at an example of both.
Here we have the Baggo USA American Flag game set that comes in just under $130 for everything you need.

And then here we have an example of a wood cornhole board, again with an American flag (the day I am updating this post it is Flag Day…so thought it was appropriate to highlight board celebrating Old Glory!)
OK, so the rest of the differences between Cornhole and Baggo are really about product differentiation. The folks at Baggo have tried to create the perfect gaming system.
I have to say, they've done a pretty good job of creating a "Swiss Army knife" of a game.
Let's take a look at the differences:
A Baggo set is lighter than a Cornhole set. The complete Baggo set (including bags) comes in around 22lbs. In contrast, a solid wood Cornhole set (including bags) comes in around 60lbs. This means that the average person should be able to carry the complete Baggo set to the play area. For the complete Cornhole set, it will take two trips or two people.
Since the Baggo boards are a foot shorter. They can more easily fit into a car's back seat or trunk. This is nice if you tailgate a lot, or drive a Prius. If you have a real car (or truck), you'll have no trouble storing your Cornhole set.
Personally, my Cornhole boards don't travel much so it hasn't been a problem for me. When we do take them camping, I just make sure they are the first thing to get loaded into the back of the SUV.
Baggo has some pretty cool storage and transport features. The two boards lock together and a handle pops out for carrying, and the underside of the boards have pockets to hold the to bean bags. In contrast, trying to carry a complete Cornhole set without a case would be difficult.
Baggo includes built in score keeper. Whether you are playing Cornhole or Baggo, you have to keep score. Baggo boards include a built in score keeping system so it's always there. Most Cornhole boards you find (or make) don't have this by default.
It's not a problem though! There are lots of score keeping options to add to your Cornhole set.
OK, so here is one criterion where Baggo seems to win…but then does it?
The Baggo board are weather resistant (they are molded plastic after all). However, the bags are not. (Corn doesn't like to get wet). So, I guess you could get some heavier Cornhole bags filled with plastic pellets and then you'd be able to play in the rain.
But who wants to play in the rain?
Personally, I try not to leave my toys outside in the rain. Occasionally it happens.
If you have real wood boards, they can handle it. If they are made from cheap plywood or (shudder) MDF, you could be screwed.  Cheap wood or MDF will not tolerate moisture.
Call me old fashion, but I'm willing to spend the extra money for real wood (that's what she said). And if that means I have to put my boards away when it gets a little wet outside…well, I'm OK with that!
If you want to be able to leave your game outside, then Baggo might be the right choice for you.
Bean Bag Toss
In my experience, when someone refers to "Bean Bag Toss", they are usually talking about the game of Baggo.  I usually only every hear Cornhole called by it's proper name of, well…."Cornhole".
This isn't always the case though, as there are many other games that involve the tossing of bags filled with beans.
If you want a good laugh, show up at a Cornhole or Baggo tournament with four of these and claim that you are "Ready to play. I even brought my own bean bags!".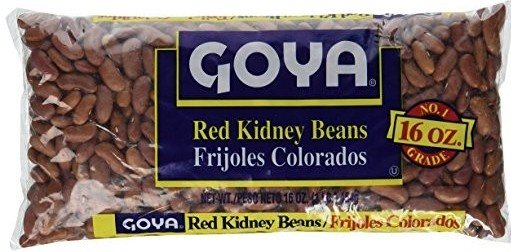 You'll get a good chuckle from everyone…or you won't. You may never get invited back to play, become a social pariah and end up living off the very beans you thought were so funny. But then again, you might get a laugh.
When I was growing up, my grandparents has a game in the back room that me and my sisters loved playing.
We called it bean bag toss. There was a single "board" setup in a 3×3 grid. Within each grid was a prism shaped piece that could spin and had "X", "O" and blank on the three faces.
The object of the game was to get three of the "X" or "0" lined up.  For less than $20, this is a really fun game for the family.  While the adults are playing cornhole, the kids can play Toss A Cross!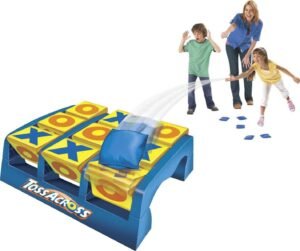 One of the fun aspects of this game is that you could knock out your opponents marker, making for much longer games and competition!)
Another "toss" game involves a single board with three holes (each hole worth a different number of points). I've seen it called "3 Hole Bean Bag Toss"…creative name right?
Triumph makes a combo set that includes the 3 hole bean bag toss game and Washer Toss.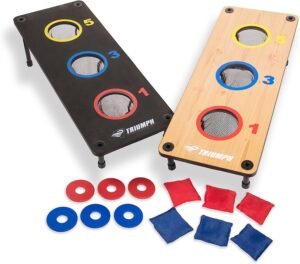 If you are not familiar with Washer Toss, it is basically bean bag toss for people who are too poor to afford to bean bags (or they ate the beans). I'm joking of course! Nobody actually plays Washer Toss.
So, when people talk about "Bean Bag Toss" they most likely mean Baggo.  But it's not always the case.  Mankind has created many wonderful games based around the musical fruit we all know and love.
Which One Should You Purchase?
At the end of the day, there are two questions you have to ask yourself when determining if you should purchase a Baggo or Cornhole set.
Which game are my family, friends, church, club playing? If they are all playing Baggo, then you should purchase a Baggo set. If they are playing Cornhole, then you should purchase a Cornhole set. If nobody in your family, your friends, church or club have ever heard of Baggo or Cornhole…then I would recommend starting out with Baggo, as you get everything you need with a single purchase.
Do you play purely for recreation, or do you want to get into competitive tournaments?If you just want to have a fun game to play at family reunion or the occasional BBQ, then Baggo could be the best fit for you. The fact that the entire game is self-contained and easy to transport lends itself to the causal player. If however, you want to play in Cornhole leagues and tournaments, I recommend starting out with Cornhole.
The biggest pro that Baggo has going for it is that everything you need to play can be stored in the boards. This makes for easy storage and transport, fewer accessories to purchase…you don't have to think about anything other than purchasing the Baggo set and playing.
This is because Baggo has a built in carry handle (everything folds up like a suitcase), as a build in scorekeeper and rope to measure off correct distance.
If you want to go the Cornhole route, you can still put together all the features of the Baggo set. It's just going to cost you a little more money.
So, for less than $100 more than the Baggo set, you can have all the same features. It really depends on how you answered the two questions above.
In Conclusion…
Personally, I'm a die hard Cornhole fan. So I'm somewhat biased in my recommendation.
I love the sound the bags make when they slam into wood…it just feels more real to me…more American. You don't really get that same experience with the plastic Baggo boards.
If it was up to me, everyone would have Cornhole sets! 🙂
Nothing against Baggo. We have a Baggo set, and take it with us when we don't have room for the Cornhole boards.  We are just a Cornhole family and nothing will change that.
I hope that you found this post helpful and enlightening.
Whether you go with Cornhole or Baggo Bean Bag Toss, just get outside and have some fun!
Anyone out there have other names for Cornhole "like" games?  Or maybe games based on bags filled with beans, corn or ???  We'd love to hear from you so leave comments below!
---
* As an Amazon Associate I earn from qualifying purchases.