I'm going to start this post out with a –> spoiler alert <–.
Glow In The Dark Cornhole Bags and Light Up Bags Suck.
I recommend you save your money and don't bother purchasing any of the products we review here.
OK, now that we have that out of the way, if you want to find out why we think they suck, please by all means keep reading!
If you're familiar with this website you know that we love the game of cornhole (bean bag toss). In fact, we loved the game so much, we added lights to our boards so that we can continue playing in the late night hours.
Add lights to your boards?
Yep, we added cornhole lights (lights that go around the hole) to our boards which was great, as it allows us to play at night! You need these…trust me!
Even with the cornhole board lights, it seemed like something was missing.
When you throw the cornhole bags you couldn't see them fly through the air, or where they were hitting the board.
We'd have to look closely on the board (or the ground) to see where the bag had landed. Lowering your head down by the board can be a dangerous thing to do when there are still bags to be tossed!
We solved the problem of not being able to see the bags on the board by adding board lights that run the perimeter of the board.
That got us to thinking about bags that could somehow be illuminated. And thus began our journey!

What are Glow In The Dark Cornhole Bags?
There's nothing really special about these bags. They are not radioactive, or based on some alien technology.
With Glow In The Dark, you'll find there are a couple of options (and we'll look at each in a little more detail). Basically, you have Glow In The Dark…fabric, paint and thread.
Glow in the dark paint is what is called a phosphorescent paint. Glow in the dark paint is made from phosphors such as silver-activated zinc sulfide or doped strontium aluminate. These paints usually glow a pale green to greenish-blue color and is used as an alternative to radio luminescent paint (this is the kind of paint that requires no light to energize it…downside, it is radioactive).
Since phosphorescent paints are not radioactive, they need a source of light to become energized. The "charging" process can take anywhere from 30-60 minutes, and usually only last for 30 minutes.
What are Light Up Bags?
When it comes to Light Up Bags, there are really two options: glow sticks or LED inserts.
I'm sure most of your are familiar with glow sticks. These are the little plastic rods that you crack and shake and then they start to glow. Our kids used them at Halloween or when we'd go camping.
Well, a smaller version of these are being used for the light up bags. The idea is that you activate a stick and then insert it into a pocket on a special cornhole bag. (Immediate do not like that you need to have non-standard bags to make this work).
With the glow stick version of cornhole bags, really all you are getting is a little flowing stick attached to the bag. Better than nothing… I guess!
The LED inserts had a lot of potential but ended up falling flat. These are inserts in the bag that activate when they hit the board, turning the LED light on (Red, Blue, White). You an also "smack" the bags to activate them before tossing so you can see them in the air.
In my mind these are a fail. The creators of these bags had to add less plastic filling to get the LED to come on consistently. That means once again, non-standard bags…a totally different experience.
Triumph Sports Glow Bags
Here is what you get with this pack:
4 blue and 4 red bags 6L x 6W inches
16 blue and 16 red mini glow sticks
These are not official weight cornhole bags. They appear to be filled with sand or some other material (definitely not corn or plastic pellets). The filling doesn't do a good job of filling out the bag resulting if floppy bags that don't toss consistently.
When it comes to the "glow", you basically have two little sticks, that are no larger than a wooden match. These get inserted in a tab that is attached to the one end of the bag.
These bags do not glow. They simply have a glow stick hanging off one end.
Glow City Light Up Bags
Each cornhole bean bag uses 2 very bright LED lights that illuminate the entire bean bag. Their bags have a unique transparent fill that does an excellent job of fusing light!
To get the best lighting effect, the bags are all white. The LEDs inside are colored so you know which bags are yours.
The inserts in the bag are activated when they hit the board, turning the LED light. As mentioned earlier, you can also "smack" the bags to activate them. (You get to decide where you want to smack your bags!)
Once again, we have to call out that these are NOT regulation weight and size, and should be considered more of a novelty. At almost $50, that is a little too much $$$ for a novelty set of cornhole bags! But that is just me.
Out of all the bags reviewed, I would say these are the highest quality and provide the greatest overall experience.
Glow In The Dark Paint
Why not paint your own bags with glow in the dark paint?!?!
This is a good idea, especially if you have some old bags that you don't mind getting glow in the dark paint all of them.
Some benefits of going this route:
You can customize your own design
Super cheap (less than $3 and you should be able to get some glow on all your bags)
Some negative aspects of going this route:
You are a terrible artist, and your bags will end up looking like crap
Bags + Boards = Friction. Friction will wear off the paint pretty fast
You have to charge the glow in the dark paint with a light source
Custom Embroidered Bags
I thought these were kind of cool…again, mostly as a novelty or keepsake.
I can see how these would be a great addition to a bride and groom cornhole set. Where the couple's initials and wedding day are embroidered into the bags.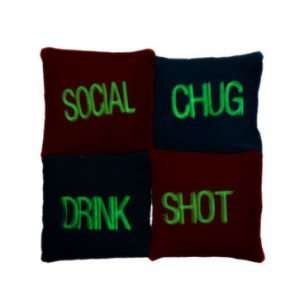 The good thing about these bags is that they are regulation. The bad thing is that these bags need to be under direct light for 30 minutes to get 30 minutes of glow out of them. Sorry, but that isn't very practical.
Still, I think these would make a pretty unique gift.
Conclusion
My opinion on all this is that glow in the dark or light up bags are nothing more than a novelty.
If you want to get someone a unique gift that they'll probably only use one time…these cornhole bags might be just the ticket!

My advice, stick to the cornhole board lights. Get one light for the hole and one light for the perimeter of the board. If you REALLY need to see the bags flying through the air on a pitch black evening…purchase some night vision and quit complaining!
Or, purchase a couple of flood lights and illuminate your entire backyard. Now everyone can see the bags, the boards, the players, the raccoons…..RACCOONS?!?!?  QUICK….TURN OFF THE LIGHTS!
---
This post contains affiliate links, which means boarddecals.com will earn a commission if you decide to purchase anything through my link. The commission we earn, at no extra cost to you, helps us run this website . For more information, visit my disclosure page.