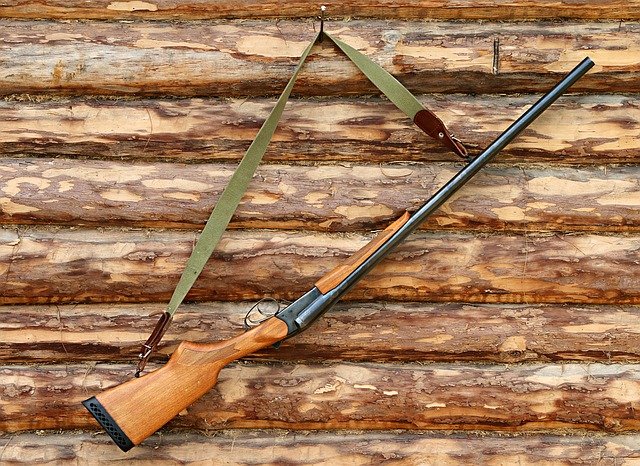 Here at The Cornhole we really enjoy the outdoors.
Everything from hunting and fishing, to hiking and camping.
We love it all!
And of course we love cornhole…so we are always looking for opportunities to combine these two loves.
There is nothing better than taking your cornhole set camping with you.  OK, the only thing better is having cornhole boards that show off your love of the outdoors.
If you feel the same way…
Well then, you have come to the right place!
The following cornhole board decal wraps have been hand selected to help you take your boring old boards and make them into something that really shows off your outdoor passion.
The Best Outdoors Cornhole Board Decal Wraps
For most of these wraps, this is what you are going to get (Please see details for each seller as the dimensions and what is included might be slightly different):
Includes Two 24.5″ x 48.5″ Board Wraps.

Applies Directly To Boards Coated With Poly Acrylic Finish.

Ready To Use Immediately After Installation.

Rapid Air Release Technology for Easy Application

Weather Proof & Laminated For 7+ Years Outdoor Protection.
---
Fishing Cornhole Board Wraps
We don't do a lot of bass fishing up here in the Pacific NW, but I know it is a really big deal other places around the country.  The following cornhole board wrap is of a nice big mouth bass jumping out of the water (ready to smack your cornhole bag off the board!).
The quality of the vinyl and inks are amazing, resulting in a really detailed, high quality image for your cornhole boards.
To me, this cornhole board wrap captures the essence of fishing…open water and peace!
The sky and water in this board decal are extremely detailed…just looking at all those blues makes me want to be out on the water!
Now this cornhole board wrap is a change of pace.  If you have ever been out in the ocean fishing for tuna or marlin, you know how intense it can get.
I like this wrap as it makes you feel like you are sitting right there in the back of the boat, just waiting for that pole to dance.
Here is another big mouth bass cornhole board decal wrap.  This one is a nice simple illustration with a feature most of the other wraps are missing.  I'm talking about the triangle lines with the hole at the top of the triangle.
You would be surprised how much having these lines can improve your game.  They give you something to line your shot up with…and for me, it helps (and I can use as much help as I can get!)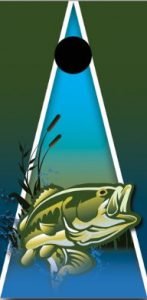 This last cornhole board wrap is just classic.  GONE FISHING!
What else is there to say?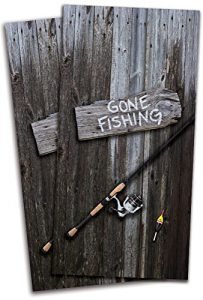 ---
Hunting Cornhole Board Wraps
Not only does this cornhole board wrap have a nice heavy and wide whitetail buck, it also have the triangle lines that help you line up your shot.
Aim for the bucks head, get it right between the antlers…cornhole every time!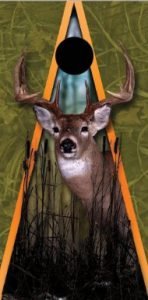 Now these cornhole board wraps are just downright cool.  You've got a kind of fire and ice thing going on here.
Super high quality, simple and clean design makes these wraps a very attractive set.
You can add orange and blue bags to really complete the set!
This next cornhole board wrap has it all.
You've got camo, wood, deer skull and antlers…and a bullseye target to aim for.
As I've mentioned above, it is always nice to have some visual references when tossing your cornhole bags.  This one give you the deer skull to aim for, and the wood slats to line up your shot!
I like this silhouette of a bow hunter at full draw.  You can just image the 7 point elk or whitetail deer 30 yards off to the right of the board!
Ah, duck hunting!  (I know there has to be more duck hunting cornhole board wraps out there…for all you duck hunters out there, I promise to do some research and do a post with a better selection.  I'll also look for other birds – grouse, pheasants, etc.)
Side Story: I use to duck hunt with a guy who had what we called, "The Plastic Navy".  He had 8 green plastic kayaks that we would take out on the Willamette river duck hunting.  You haven't lived until you've shot a mallard from a moving kayak!
Anyway, I really like the "action" in this cornhole wrap as these mallards blast off the water, just in range of your shotgun.
Whitetail buck, quartering away from you.  How many times have you played this scenario over in your head?
Take a breath, put your crosshairs right behind that from leg, and pull the trigger.
Or in this case, toss your bag.  This cornhole board decal wrap gives you the chance to "shoot" at a beautiful buck and play cornhole.  WIN!
And last, but not least, the best of both worlds…hunting and fishing.
I really like this set as it feels old school, and it just really has a clean design.
---
Alternatives To Vinyl Decal Wraps
I will admit, not everyone likes the idea of adding an amazing, easy to apply, long lasting finish to their cornhole boards.  (I call them the crazy people).
In reality, some folks are just more creative than me and like to create their own custom boards.  Boards that are unique and one of a kind (translated – takes a lot more time to create, which means less time playing cornhole) usually involve lots of painting and application of varnish and other finishes.
They are require more upkeep and don't like to be left out in the elements.
If you are one of the "crazy" ones and want to create your own boards, check out How to Paint Your Cornhole Boards and Cornhole Board Decals – Create the Most Talked About Cornhole Boards!
---
*As an Amazon Associate I earn from qualifying purchases.