GoSports is more known for affordability than it is for quality. However, when it comes to their Flag Series wood cornhole boards, I have to say they give boards twice as expensive a run for the money.
But don't take my word for it, check out some of the reviews from folks who purchased through Amazon…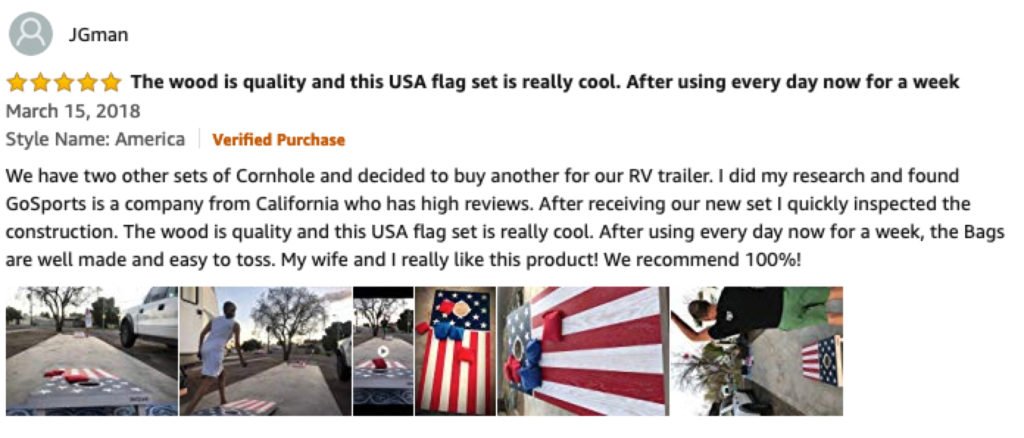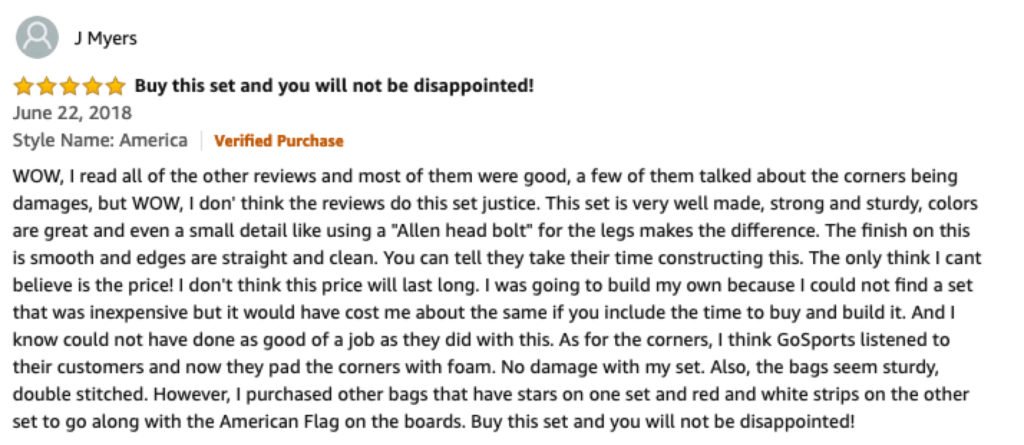 This set is one of the highest rated sets on Amazon and for good reason!
OK, so hopefully I've got your interested now…read on to learn more about the GoSports Flag Series Wood Cornhole Set and why I so highly recommend it.
The Boards
The Flag Series from GoSports has some really nice boards for the price. Let's take a look at why I'm so impressed with them.
First off, you get to chose from a couple of really tight looks flag designs.
USA
Alabama
Mexico
Texas
Arizona
California
Canada
Colorado
Ohio
South Carolina
Since the Oregon flag wasn't available, I went for the good ole' USA flag.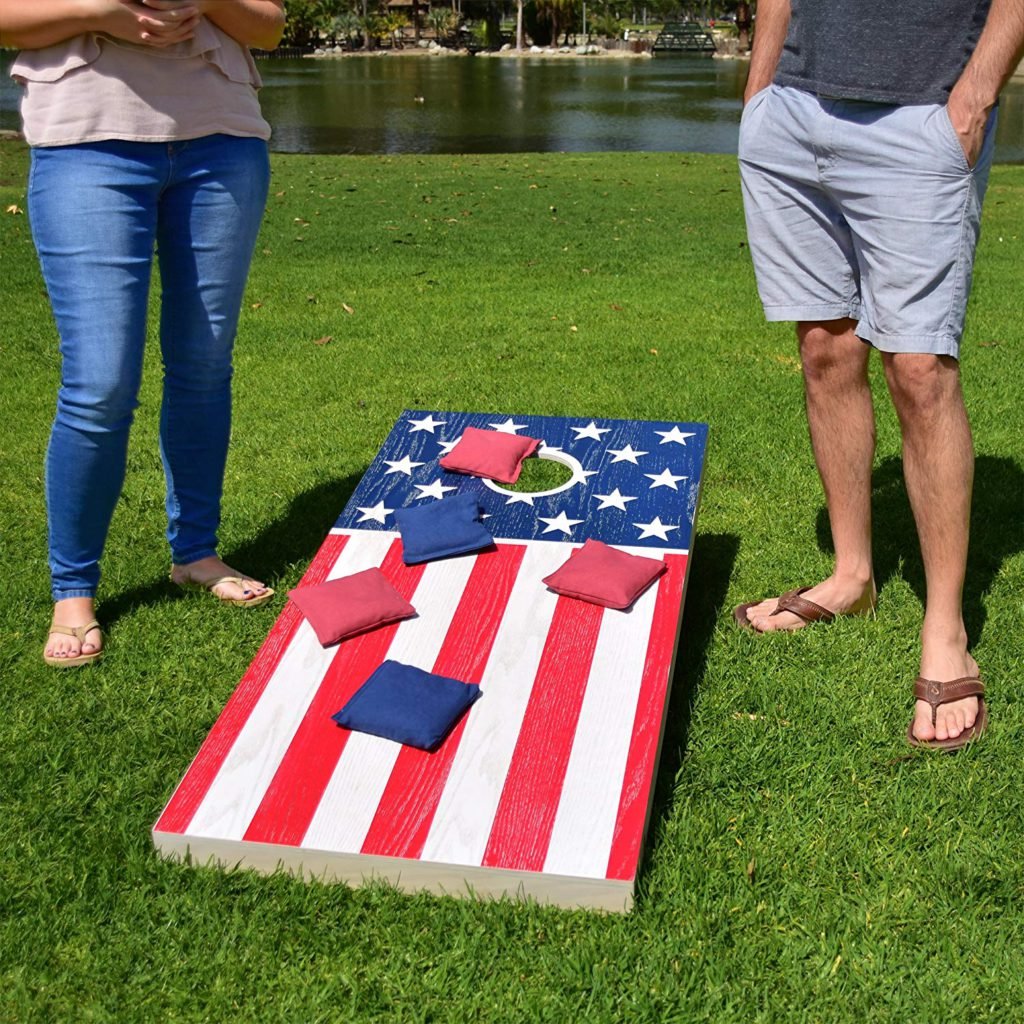 The designs are painted "varnished" on (not a vinyl wrap) and can withstand some weather (light rain). However, as with almost all cornhole boards (with the exception of the Driveway Games All-Weather Cornhole Boards) you are going to want to keep them dry to ensure they last for a long time.
The paint/varnish process allows the wood grain to show through the design, resulting in a really high-end look.
These boards are made from 100% real solid wood! They are handcrafted with oak surfaces which provides a good hard, long-lasting top surface. The wood tops are 1/2″ solid plywood and all wood corners are mitered for a smooth finish.
Official tournament size board – ACA regulation size (4 feet x 2 feet) cornhole boards for authentic game play. You have to be careful as some of the cheaper boards are cheap because they are only 3 feet x 2 feet….not regulation!
The solid wood legs fold up neatly inside the board for easy storage and transportation.
The Bags
The bags that come with this set are nothing special, but they are better than they bags that come with some of the cheaper sets out there. And based on the many Amazon reviews I read, they actually hold up quite well to a lot of game play.
Just like the boards, everything is regulation here!
6″ x 6″ regulation size
10oz regulation weight (all weather bags)
Double stitched
4 red / 4 blue
Now, even though this set some with bags, I always recommend you pickup a backup set. There is nothing worse than being in the middle of a fun afternoon of BBQ and cornhole and having one or more of your bags fall apart (sounds like a personal problem). An extra set doesn't cost much and provides you some insurance against the embarrassment of having to play with your friends bags.
For the best bags, check out my Official Cornhoe Bag Buyers Guide.
The Case
Not much to say here other than the bag is nice to have, especially is you don't have any help to carry the boards (they weight about 40lbs).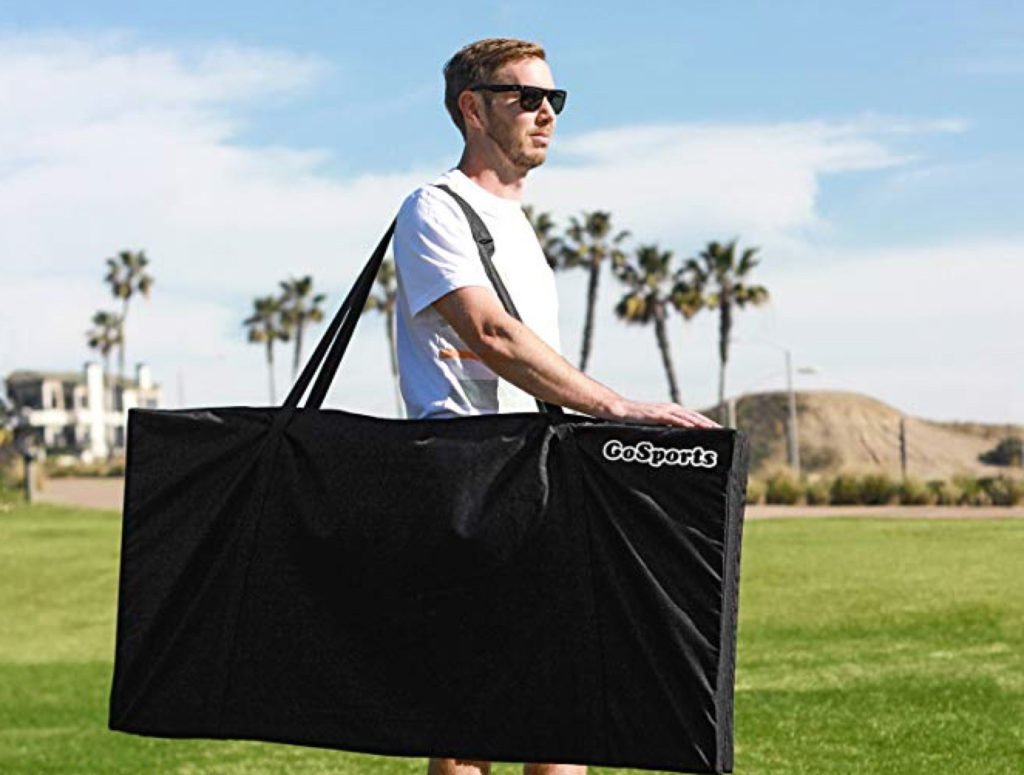 And you thought you looked cool playing cornhole! (*Shades and beard not included.)
The carry case comes with shoulder padded traps and can hold the two boards, all your bags and still have room for a 6 pack and a bag of chips.
Made from robust polyester material with puncture resistant PVC inner coating so they can take a look abuse and protect your set from moisture.
GoSports
GoSports is a SoCal based company that makes a ton of outdoor games. Everything from lawn games like cornhole to playground balls and disc games.
You should definitely check out their Amazon company website for a complete list of games and products they provide.
And while most (if not all) of their products are made in China I do like that they are a USA based design company. And they do care about quality and customer support.
Other Options
If you are looking for something a little nicer and willing to spend double the money, you can't do much better than the Slick Woody's boards.
However, with the money you save on this set you can afford to deck out your cornhole setup with lights, scorekeepers and extra bags!
Checkout out our list of cornhole accessories must haves!
As mentioned earlier in this review, at the very least you should consider getting an extra set of cornhole bags. You'll thank me later!
We also never play without our favorite scorekeeper! Playing cornhole, drinking AND keeping score in your head is too much to ask. If you want to stay on budget, I recommend getting the magnetic score card that attaches directly to your board.
The Final Verdict
The GoSports Flag Series Wood Cornhole Set is an amazing value. I wish there were most design options to choice from, but considering the quality and price I really can't complain.
If you are looking for your first cornhole set or looking to add an addition set to your collection you'll not find a better deal than the GoSports Flag Series Wood Cornhole Set.
This post contains affiliate links, which means The Cornhole will earn a commission if you decide to purchase anything through my links. The commission we earn, at no extra cost to you, helps us run my The Cornhole website. For more information, visit my disclosure page.