If you want to save yourself a little time, don't bother reading the rest of this review.
I will give you the low down right now.
The Triumph 2-in-1 Combo Bean Bag Toss & Washers Game sucks! It's not worth your time or money.
It's a good idea…and I had hoped since I last looked at this product three+ years ago, the quality issues would have finally been addressed. They have not. So, unless you want to end up looking like the guy above (which would really suck if you are a woman), then I would avoid buying the Triumph 2-in-1 Game of Bean Bag Toss and Washers.
There are other, much better options out there. Here are some alternatives that cost a little more, but won't leave your frustrated.  Here are a couple we recommend…
This one is really a lot of fun with lots of different ways to play!


OK, so if you want to read on and learn why this product is one you should avoid, by all means, do so…you'll be a more educated shopper for it.
Overview of the Triumph 2-in-1 Combo Bean Bag & Washers
So what exactly are the 2-in-1 games we are talking about here?
One side of the board you have a version of cornhole (bean bag toss) where the boards have 3 holes instead of 1. Each of these holes is marked with a score of 1, 3 and 5 points.
Ditto on the other side of the board for playing a game of washers.
The only real difference between bean bag toss and washers (with respect to this game set only) is that one side has a foam pad, while the reverse side is fake wood.
As you may have guessed, the foam side is used when playing washers. This prevents the surface from getting dented up and causes the washers to "sit" instead of always bouncing off the board.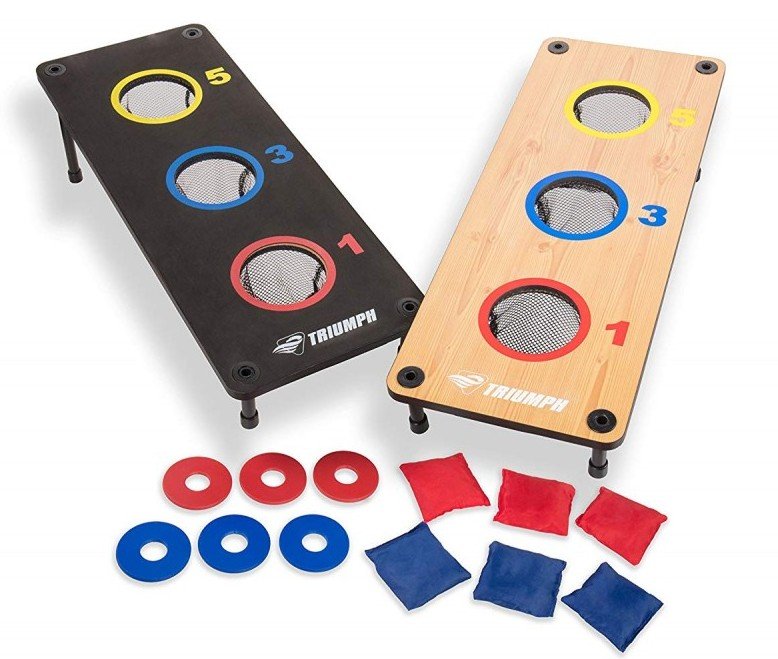 When you want to switch game, just flip the board and reattach the legs for your choice of washer toss or bean bag toss.
One unique feature of this set is that it includes nets to capture bags and washers with ease. Probably much more useful for the washer games as the bean bags don't bounce around much.
Game Boards
With this game set, you get two boards. The boards (I use that word loosely) are 26″ x 10″.
Yes, that is right…26″ x 10″.
If you want to feel like a giant, then maybe these boards are right for you. Or, if you want your kids (under 10) to have something fun to play while you play real cornhole…then maybe this set is for you.
To put the size of these boards in perspective, if you took two normal size sheets of ruled paper from your kids notebook and put them end to end, the board would only be about an inch wider and 4 inches longer (Dang, how many times have I heard my wife say that?  "If only an inch wider an 4 inches longer…")
If size matters to you and your wife, go with a full-size regulation cornhole hole board. If you enjoy playing washers, head down to the hardware store and get everything you need for a couple of dollars.
The boards include what the manufacturer calls "on-board scoring", which basically means the hole has a score number next to them. There is nothing on the board that allows you to keep score.
There are four detachable legs that provide support.  They unscrew and get swapped when you are ready to change games.
As mentioned earlier, one side of the board for washer toss has a padded surface.
Each board is equipped with 3 holes with nets to catch bags and washers.
Game Pieces
With this set, you get six 4″ square toss bags (3 red, 3 blue) and six washers (3 red, 3 blue).
Again, this is a deviation from "true" bean bag toss/cornhole game play as you are supposed to have 4 bags.
Not only that, real cornhole bags are 6″x6″ and actually, have some weight to them. Not so much when it comes to these bags…these bags will get blown off course if the dog farts in your general direction.
Considering how small and light they are, you would think that the bags would at least last for a while. Not the case! The stitching on these things looks to be piss poor at best.  The image bellow is a bag after three games!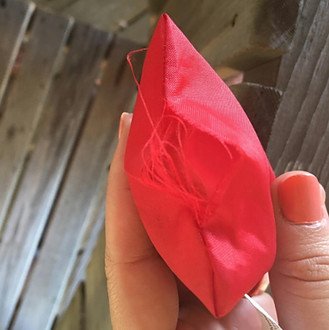 The one thing that does look to be high quality in this set would be the washers. As mentioned earlier you get 6 of them and they are metal and painted….and yeah, they are washers.
Pretty hard to mess that one up, so glad to see they didn't.
The Good
The only good thing I can say about this set is that it comes with some quality washers. If you are in a pinch and need some quality steel spacers, you'll be covered with this set. That is about all they are going to be good for.
I really don't like this set and feel like even if it was < $10, it would probably still be a rip-off.
The REALLY Bad
Everything else about this game set!
Let me just make a quick list of all the really bad things and why you should not waste your money.
It will fall apart after a couple of uses
Cheap plastic legs will break and inserting them into the boards
Bags are so light and seem to be held together with spit
So freaking small…way smaller than you would think
Even thinking about leaving it outside will cause the finish to peel off
Not fun!
The board will embarrass up you in front of friends and family
Conclusion
Please don't buy the Triumph 2-in-1 Bean Bag Toss / Washer Combo game. Save up a little more money and get the real deal and you won't regret it!
Here is a video of the GoSports 2-in-1 (I'm pretty soure the Triumph is made in the same factory).  I've included this to show you in more detail how small the boards and bags really are!
This post contains affiliate links, which means The Cornhole will earn a commission if you decide to purchase anything through our link. The commission we earn, at no extra cost to you, helps us run The Cornhole. For more information, visit my disclosure page.