In this review we are going to take a look at the OOFIT line of cornhole boards that use a durable printed surface on top of quality cabinet plywood.
What does all that mean for you the discerning cornhole shopper?
It means you get a rugged and good-looking set of cornhole boards that also happen to be all-weather!
The Boards
Some manufacturers out there use thin wood which ends up creating a very springy board. Not good.
The OOFIT cornhole sets use premium construction design are made from 100% solid wood. The top are made from cabinet graded birch plywood (this stuff is dense and very strong).
The frames are made by skilled hands from strong hardwood. You won't find any cheap stuff like MDF, card press etc, particle board, etc. that you often times find in many other products.
Thanks to the rugged construction and stability from the two strong legs support, you end up with a product that will not sway or bounce when the bags hit.
Handcrafted wood frames, corner joints, and durable legs pass our gaming boards the strength to withstand breaking when a friend stands on it. These boards are well-built and tough!
The OOFIT designers pay close attention to details, refining every element to meet the highest quality standards. Frames and legs are coated in a water lacquered finish that provides water and mildew resistance.
The legs are foldable for convenient storage and transportation. The hardware used to assembly these boards are high quality and should last for many years.
OK, so enough about the construction, let's take about the unique finish.
OOFIT offers these boards with a couple of vintage (they call it Retro) and stained wood designs. In my opinion they all look really good and remind me of high end hard wood flooring.
The surfaces of the boards (both top and bottom) are covered in a unique printed pattern that is wear and scratch resistant.
Many of the competition offer fancy wood finishes, but when you look closer you'll see it's only a sticker or ink/dyes. If these get exposed to some moisture (especially if they are printed or applied to MDF) then you can kiss your boards goodbye.
OOFIT uses a combination of printing and heat pressing to craft a high-end lasting quality finish that is all-weatherproof, protecting the artwork for years to come!
When you play outdoors, your cornhole set will inevitably be affected by the sun, moisture and hard objects. The OOFIT cornhole sets are coated with unique laminated vinyl on surface and UV inks to protect them from fading in the sun and corroding under moisture scratching by hard objects such as stone.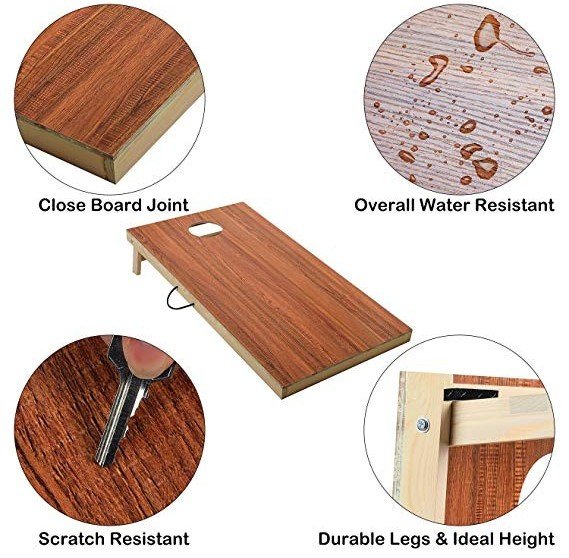 For easier carrying, each corner of the boards has Velcro affixed. Pressing the undersides of the boards together locks them in place. (You can store your bags inside!). Integrated into each board is a woven rope handle making them easier to carry and store.
Now, the only real complaint I have about this set is the carry handle. The boards together weight in excess of 40 pounds. Carrying that weight with one hand using that thin rope is going to kill your hand. I would replace with a thicker cotton rope or add a padded grip. Of course if you are just hauling the set from the garage to the backyard, the handle as it comes is not going to be a problem.
The Bags
I wish more manufactures would let you pick your bag colors…alas, they don't and you always seem to end up getting stuck with blue and red bags.
The good news is that quality bags in all the colors of the rainbow of available and don't cost very much. (I highly recommend always having a backup set of bags on hand…bag break, and you don't won't to be without backup bags!)
Anyway, this set does come with a pretty good set of bags. Since the boards are all-weather, it makes sense that the bags are all-weather as well. This means that they are filled with little plastic pellets instead of corn (which will rot if they get wet). The bags themselves are made from heavy-duty duck canvas with good stitching.
The Good
There are a lot of good things to say about the OOFIT line of regulation cornhole boards.
Quality construction abounds
The printed wood is some of the more realistic I've seen..they just look really good!
The heat pressed, UV protected boards give you a natural look while providing a true all-weather set.
Considering everything you get with these sets, they are an extremely good value.
The Bad
The only real complaint I have about these boards would be the warranty. OOFIT provides a 3-month warranty which is good and bad.
A lot of the manufacturers that produce their product in China have a one-year warranty. But to be honest, most of those boards are so cheap, it's not worth the hassle to try to get a warranty replacement. They are betting on you just tossing the defective item and buying a new one.
So, I think that OOFIT's 3-month warranty is shorter than most, they seem to really care about the customer and making sure they have a quality product. If you do have any issue with your boards, I believe they will respond quickly to remedy the issue.
Lastly, some folks have complained that the packaging sucks and the boards were delivered damage. Let's be honest, this can happen no matter how good a product is packaged. However, it looks like most of the issues were in 2018, and since then things have gotten better.
OOFIT's Other Offerings
In addition to a few different wood patterns to choose from, OOFIT also offers smaller version of their boards.
The 3 feet x 2 feet boards are often called Tailgate cornhole boards. And while not regulation, they are still a ton of fun to play on and are easier to transport.
And then there is the Junior cornhole boards that are 1 foot x 2 feet. These sets are really great for the kids or long road trips where you want to take some games, but space is tight.
Conclusion
The OOFIT boards are well-made and provide a very good value. And the fact that they offer three sizes is an added bonus!
There are a ton of positive reviews on Amazon which always tell me the product is worth checking out (especially considering most people only leave comments when there is something wrong with the product.)
If you are looking to upgrade your cornhole set and want something that can withstand some weather and look good doing it, you should definitely check out the OOFIT line of cornhole bean bag toss sets!
This post contains affiliate links, which means The Cornhole will earn a commission if you decide to purchase anything through our links. The commission we earn, at no extra cost to you, helps us run my The Cornhole. For more information, visit my disclosure page.