I recently did a review of West Georgia Cornhole's complete regulation cornhole set. They create some amazing, handcrafted cornhole boards for sure! What you may not know though is that that company started out by making cornhole bags.
The owner bought a sewing machine and started cranking out the best cornhole bags around.  He then grew the business to include cornhole boards and other products.
I did a deep dive on West Georgia Cornhole cornhole boards.  Liking what I saw with their boards, I had to dig a little deeper into their bags.
What I found did not disappoint!
If you are looking for THE BEST whole corn filled cornhole bags around, then you've come to the right place. Not only are these bags exceptional, but they are also priced a few dollars below some other quality manufacturers like Victory Tailgate and Johnson Enterprises
Bag Material
These West Georgia cornhole bags are made from 10 oz cotton Duck Canvas so you know they are going to hold up to many hours of gameplay. With that said, anyone who has played cornhole even a little knows that the bag material is not usually what fails…
The sticking is the Achilles heel of the cornhole bag. Cheap bags, with poor sticking and thread, often break open after only a few throws. Don't let this happen to you! Buy quality bags!!!
It's all about the stitches bitches!
West Georgia Cornhole uses a white, heavy-duty bonded nylon upholstery thread to stick these bags shut. You can imagine that is this thread is used to hold your couch together, it should do a good job of keeping a cornhole bag in one piece.
When making the bags, three of the four sides are stitched together with the bag inside out. Then the bag is turned right side out and the final side is stitched together. West Georgia Cornhole double stitches both the inside and outside edges. There are no weak points in these bags!
When you add in the weight of the canvas, each bag weighs in around 15.5-16 oz.
Available Colors
You get to choose two colors for your cornhole bags. You'll get 4 of each of your selected colors.  While I wish they had a wider selection of colors, 16 offerings are nothing to sneeze at.
It's a hell of a lot better than the no option Blue and Red cornhole bags that come with so many of the budget cornhole sets.  (If you bought cheap cornhole set in the past, these bags would be a serious upgrade to the crap that came with your set).
The color options are:
Red
Black
Navy
Light Blue
Grey
Orange
Pink
Turquoise
Hunter Green
Grass Green
White
Yellow
Purple
Royal Blue
Khaki/Tan
Burgundy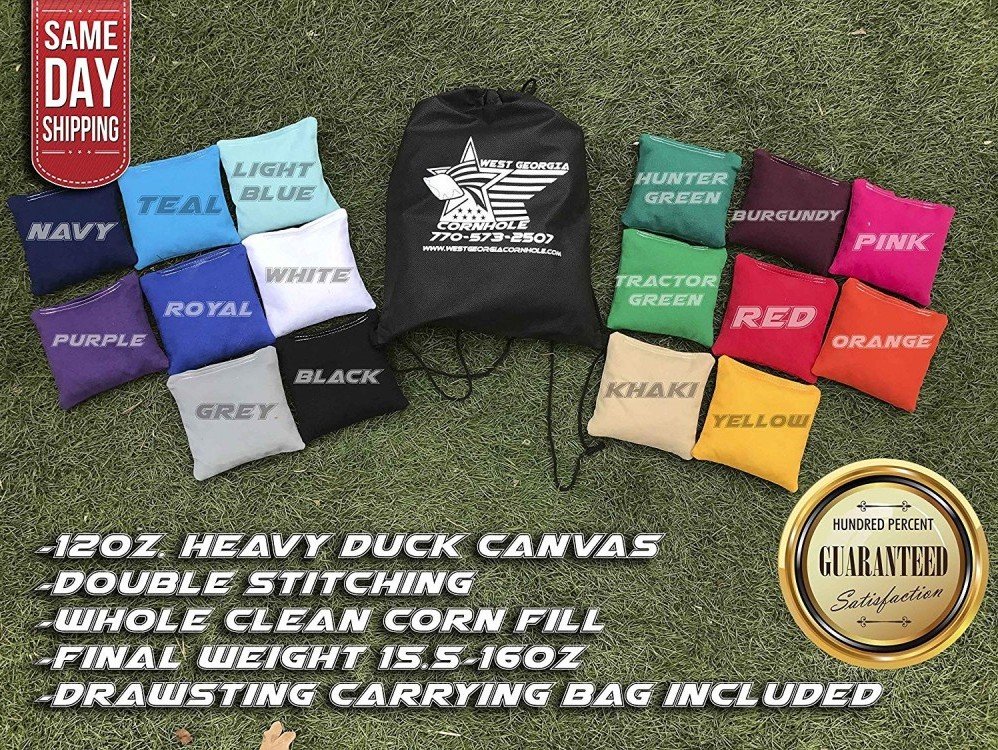 These are custom-made to order bags, so please put your two bag colors in the checkout notes!
Filling
Each cornhole bag is filled with while clean corn. If you want to play truly authentic cornhole, these are the bags for you.
These beautifully made bags are filled with clean (no dust and debris) while corn. Each bag contains 15 oz Whole Double Filtered Clean Corn! Now that makes for some clean corn!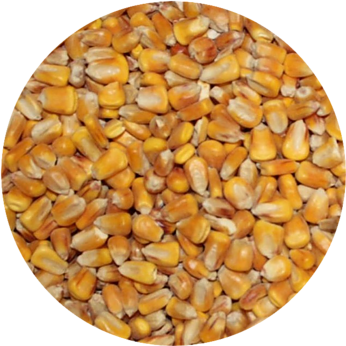 Remember: Unlike plastic pellet fillet bags, corn filled bags don't like moisture. Be sure to bring them inside when you are done playing.
Carry Tote
Each order comes with a drawstring tote bag for your bags. A bag for your bags. I guess if you had enough cornhole bags, you'd eventually need a bag for your bags of cornhole bags!
Sorry, that's just me being a little "corny". 😉
The carry tote is a nice addition to this cornhole bag set. You'll really appreciate the tote when you are trying to carry two cornhole boards, 8 cornhole bags and a case of beer!
Warranty
West Georgia Cornhole provides a 100% satisfaction guarantee on their products. If there is a problem with your bags, they will take care of you.
Take a look at one of the many positive reviews from Amazon customers.
Nuff Said!
Conclusion
I honestly don't know how these guys can sell their bags for so cheap and provide free shipping (I don't think you have to be an Amazon Prime member to get the free shipping). Maybe they are just breaking even on the bags in hopes that you'll purchase one of their amazing cornhole board sets.
These bags are an awesome deal for such a quality product! They are hand made to order, so you can be sure you are getting new corn and fabric that is not faded.
This post contains affiliate links, which means The Cornhole will earn a commission if you decide to purchase anything through our link. The commission we earn, at no extra cost to you, helps us run The Cornhole. For more information, visit our disclosure page.