Welcome to another cornhole board review from The Cornhole!
In this review we are going to take a look at the new and very exciting all weather cornhole board from Slick Woody's.
As someone that lives in the Pacific Northwest, and who always seems to leave his toys out in the rain, I really appreciate cornhole boards that can hold up to the elements.  That is why I love All-Weather cornhole boards and am always on the lookout for the newest boards.
So we are all on the same page, in most cases, "All Weather" means boards that are made to be left outside and take some serious abuse. They are often made from plastic and stainless steel fittings.
The Burn Pyramid All-Weather cornhole boards from Slick Woody's are no exception, and as we'll see in this review, they are build to last!
About Slick Woody's
The folks over at Slick Woody's know a thing or two about making some of the best cornhole boards around. They use the highest quality material to create beautiful boards for your enjoyment.
Don't take my word for it…Slick Woody's was ranked #1 on Amazon in 2017 and 2019!
If you want the best, skip the rest and go check out Slick Wood's Amazon page right now. While they are on the more expensive side, you'll be getting the highest quality boards around and excellent customer service.
You can definitely find a cheaper cornhole board, but they don't make cheap boards.
They also offer some of the most impressive support for customization of your boards.
Have some incredible design idea?
Slick Woody's can help you make it a reality.
The Boards
When it comes to wood board, Slick Woody's only uses Baltic birch for the top because it's the smoothest,
flattest plywood available. Their regulation (tournament) board frames are cabinet-grade popular, and all our boards are reinforced with a crossbar to eliminate sagging in the middle of the board.
However, the board we are reviewing today don't use any "wood" (OK, maybe a little wood)!
They are completely made from Trex composite decking material!
Now don't worry, these cornhole boards don't look like a bunch of deck board slapped onto a frame. Slick Woody's uses the Trex composite lumber in dimensions similar to if the board was all wood, so they look like the real deal.
And to be fair, there is some wood in there. Composite lumber is a material that is a mixture of wood fiber, plastic, and some type of binding agent. These ingredients are put together to form a material that is denser, stronger, and heavier than wood alone, a wood-plastic composite that is highly resistant to the elements.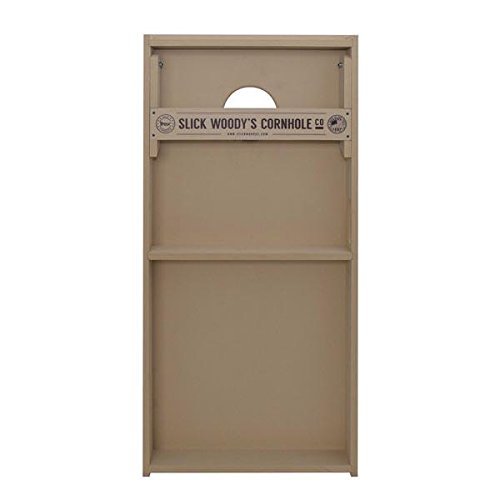 One big concern of a lot of folks is their "play". Do they end up playing like real wood boards?
The answer is YES!
Many customers and tournament players have said that these composite Trex board deliver the same consistent playing surface. Slick Woody's has even added additional braces on the back side of the boards to prevent bounce.
As far as construction goes, Slick Woody's is know for "over building" their product. That equates to strong, long-lasting boards! Things are no different with their composite boards.
Thanks to the rugged construction and stability from the two strong legs support, you end up with a product that will not sway or bounce when the bags hit. The only downside I can see is that the boards are going to be heavier than wood.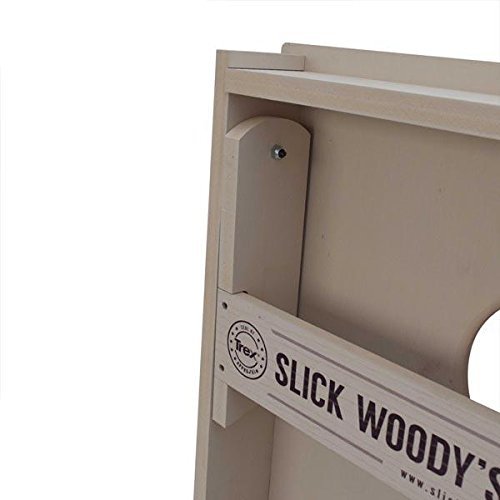 But the fact that you can leave them outside means you don't have to worry about bringing them into the garage ever night!
The legs are foldable for convenient storage and transportation. The hardware used to assembly these boards are high quality and should last for many years.
OK, let's take about the high quality finish on these boards.
In this review I specifically looked at the Burnt Wood Pyramid design (one of my personal favorites – I find the pyramid design helps be line up my shot making me more consistent). Slick Woody's has other designs available – Check them out!
Slick Woody's uses a combination of printing and heat pressing to craft a high-end lasting quality finish that is all-weatherproof, protecting the artwork for years to come!
When you play outdoors, your cornhole set will inevitably be affected by the sun, moisture and hard objects. Slick Woody's cornhole boards are coated with unique laminated vinyl on surface and UV inks to protect them from fading in the sun and corroding under moisture scratching by hard objects such as stone.
Now, the only real complaint I have about this set is there are no carry handles. This isn't a big deal and someone with even basic skills with a screw driver could add some handles. You'll probably want them as the combined weight of these boards is just over 60 pounds.
My recommendation would be to get a good carry bag like the Tailgating Pros Heavy-Duty Cornhole Carry Case. You'll appreciate the padded should straps when carrying these heavy boards!
The Bags
Most manufactures don't let you pick your bag colors…and you always seem to end up getting stuck with blue and red bags.
Slick Woody's makes a great bag, and you'll end up getting whichever bag colors they send you. (When ordering through Amazon, you can put a not in the order with your preferred colors and they might be able to accommodate you!)
The good news is that quality bags in all the colors of the rainbow of available and don't cost very much. (I highly recommend always having a backup set of bags on hand…bag break, and you don't won't to be
without backup bags!)
Anyway, this set does come with a pretty good set of bags. Since the boards are all-weather, it makes sense that the bags are all-weather as well. This means that they are filled with little plastic pellets instead of corn (which will rot if they get wet). The bags themselves are made from heavy-duty duck canvas with good stitching.
The Good
There are a lot of good things to say about Slick Woody's line of regulation all-weather cornhole boards.
Quality construction abounds – these boards are well built and will last a long time!
Made in the USA!
Very realistic printed wood. They look amazing and are guaranteed to impress!
The heat pressed, UV protected boards give you a natural look while providing a true all-weather set.
Amazing customer service.
Slick
The Bad
The only bad thing I can say about these boards is that they are way more expensive than a traditional wood set. In fact, you could almost get 3 complete cornhole sets for the price of one Slick Woody's All-Weather cornhole set.
That being said, you get what you pay for right?
And when you pay the extra $$ for these boards you are getting your money's worth.
Highest quality material and construction
Trex All-Weather materials means years and years of life even if left outside!
Perfect addition to a rental property where you can't guarantee the guests are going to remember to put things away.
Conclusion
The Slick Woody's All-Weather Burnt Pyramid boards are well-made and provide the pinnacle of quality of construction and materials.
If you live in a wet environment, or are just one of those people like me that always seems to forget to bring the boards inside (yes, usually alcohol is a contributor to my forgetfulness), you won't found anything better than the Slick Woody's All-Weather boards.
This post contains affiliate links, which means The Cornhole will earn a commission if you decide to purchase anything through our link. The commission we earn, at no extra cost to you, helps us run The Cornhole! . For more information, visit our disclosure page.