Cornhole season is upon us!
I'm so excited that the weather is starting to cooperate. I can cut my grass, and setup the boards once again!
Once we start playing…we play a lot.  And we like to enjoy a "few" cold beverages while doing so.
And let's face it, after a few beers, it becomes way too difficult to keep accurate score. (I can keep score drunk, just not an accurate score.)
Anyway, I like to focus on playing the game, enjoying a beer or two, and talking with my friends and family. Keeping score, and the disagreements that often occur around what the score "should be" suck.
I want to have fun, drink beer and not have to keep track of the score in my head or on a scrap piece of paper.
Lucky for us, there is a solution…
SCOREBOARDS!
OK, so you probably already knew about scoreboards, else you wouldn't be here reading this review.
But wait! Did you know that some of the scoreboards have an awesome secret feature?
I'm not sure about the science and engineering that went into this secret feature, but it is pretty amazing.
The secret feature: Drink holders!
You heard me right! You no longer must you hold your drink while tossing your bags. Or worse, have to set your beer on the ground! The scoreboard will hold your beer for you.  I'll drink to that.
Now, time to get serious and review a few of my favorite scoreboards.
There are two types of scoreboards I am going to review here: those that attach to your board, and those that don't (but hold your drinks).
Decal Magnetic Overlay
For those of you that don't mind holding your drink or leaving it on the ground (animals!) you can opt for the decal magnetic overlays.
These score boards are made from metal and are attached to your board using wood screws, or double-sided tape.
TIP: You can easily spray paint the magnetic score keeping pieces to match the theme of your boards. For backup "keepers", pick up some washers at the hardware store and paint them at the same time you are painting the keepers that came with the scoreboard!
Let's take a look at my top two picks for magnetic scoreboards.
Midwest-Masterpiece Cornhole Magnetic Scoreboard
This scoreboard set comes with one (you really only need one) 0-21 Black on White background numbered Score Keeper Plate and two USA made pawn magnets. You'll also get a round flat washer to mount on the underside of your board for convenient magnet storage when not in use.
The plate is 3" x 22" plate and goes through a high-tech oven to create a long-lasting baked on white powder coat finish.
One thing I really like about the company that makes these products is that they give back to their community. They have teamed up with their local Cardinal Center that provides job opportunities to those with disabilities and life challenges. The caring hands of these folks have packaged your magnets with fasteners.
GoSports Premium Cornhole Scoreboard
This scoreboard set comes with one 0-21 Black on White background numbered Score Keeper Plate and four magnetic keepers.
The plate is 2.5" x 22" plate and quickly mounts to wood boards with screws or to composite or metal boards with 3M tape which is included.
Personally, I prefer the Midwest-Masterpiece scoreboard. I like that it is a little bigger and doesn't have the (in my opinion) unnecessary "TEAM 1" and "TEAM 2". I just think the score board look cleaner and are a little easier to read.
Score Towers
The score towers take your score keeping to the next level, making the score more visible…and did I mention they hold your beer?
There are two score towers that I really like…either of them would be a great addition to your cornhole set.
Backyard Scoreboards – Score Tower Combo Set
This combo set includes one Score Tower with drink holders and one companion drink holder. These are completely free-standing. There is an inverted "U" at the bottom of each post that you push into the ground with your foot. (If you wanted to use these indoors, you would need to create some kind of base for them. A 3 gallon bucket filled with sand works nicely.)
The scoreboard is double-sided and features dual columns making it easy to read from either side.  The included red and black "score clips" make it really easy to update the score and provide high visibility.
USA MADE – This product is made in the USA with heavy gauge, steel and black powder coat paint for a long life.
The Score Tower scoreboard is made from all-weather plastics designed to stand up to outdoor use. And while it is "all-weather", if you live where it is wet, I recommend you bring them indoors when not in use.
The scoreboard is 58 inches tall and can be taken down and stored in the box it ships in when you are not playing.
If you are looking for a no-frills, affordable scoreboard with holders for your beer(s), this is the set for you!
Vorticy – Scorer Pro Cornhole Combo Table Set
This is the scoreboard you need if you want to make a statement and are willing to spend a little more money.
Unique feature to this set…Not everyone likes to drink beer while playing cornhole (shock). For those who prefer a glass of wine, this table set includes a wine glass holder!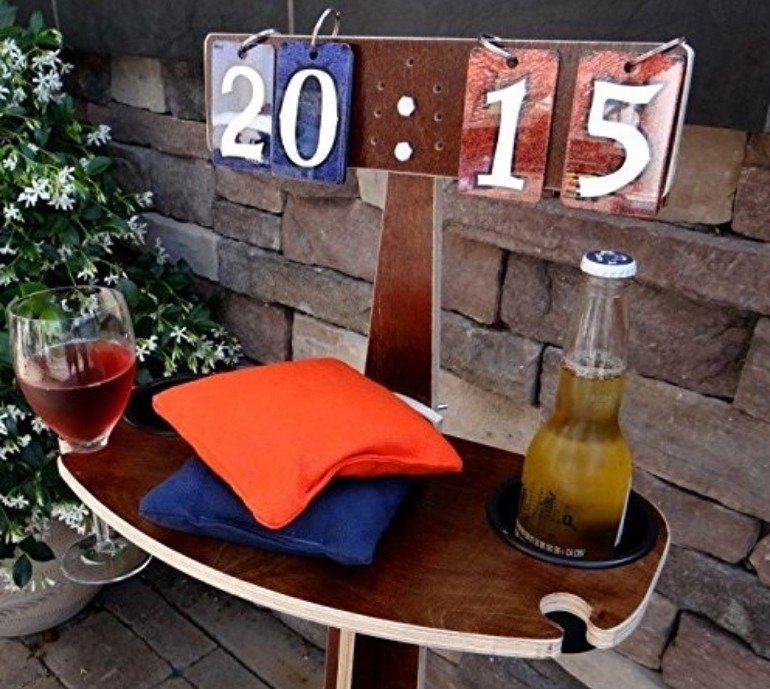 Not only does it hold your drinks, it also hold your bags, car keys, etc.
The table surface is ~30″ from the ground with an overall height of ~41″.
This is a professional quality scorekeeper with flip style scoring (score a game to 29pts for each team) which I find to be a lot more fun when it comes to updating the score!
I like the big 3-inch tall numbers that make it easy for players and spectators to see what the score is. Unlike the magnetic overlay that attached to your board, this scoreboard is easy for spectators to read.
USA MADE – Manufactured in the USA using quality exterior grade Baltic Birch plywood. (While this product does use exterior grade plywood, I DO NOT recommend leaving them out in the elements.)
The unique tripod leg design makes it stable on all surfaces. No need for a bucket of sand to hold them up…these work indoors as well as they do outside. The legs fold in and the table folds down for
storage and transportation.
This set comes in three colors: light brown, dark brown, ebony/dark blue.
I really like this set.
It's more expensive, but I think it is worth it. If you have patio furniture, these feel like they belong both on the game field and next to your table.
Accessorize!
Here are a couple of items you can add to your scoreboard.
Lighting
We play into the wee dark hours. To do that we added hole lights to our cornhole boards. After adding the board lights we could see the boards, but we couldn't see the scoreboard….so we added a light to the scoreboard as well! Now we never have to stop playing!
The simplest and cheapest solution I found, was to pick up a couple of LED clip on lights. They attach to the top of the scoreboard and provide just the right amount of light to see the score, and most importantly, locate your beer.
Bottle Cap Removal Assistance Device
If you end up going with the wood scoreboard, a nice addition is a bottle opener. This one is my favorite, but there are lots of other cool bottle openers available on Amazon.
Check out some other fun accessories to add to your cornhole experience!
Conclusion
Well, I hope this quick review of cornhole scoreboards was helpful for you.
Keeping score in your head, or on a piece of paper sucks. It detracts from the enjoyment of the game. Spending a little money on a scoreboard will help you avoid score keeping squabbles and the unnecessary use of your brain.
Now, where was my beer? Oh yeah, over there on the scoreboard table…
OK now, get out there and play some cornhole!
---
* As an Amazon Associate I earn from qualifying purchases.